Best Car AC Repair Workshop
Car Air Conditioner Repair & Service In Dubai
Exotic, American, European & High-End
Japanese Cars Specialists
Best Car AC Repair Workshop
Car Air Conditioner Repair & Service In Dubai
Exotic, American, European & High-End
Japanese Cars Specialists
We Provide Dealer Alternative Car AC Repair & Service In Dubai. We Are Specialized In Exotic, American, European, And High-End Japanese Cars.  Discounted Prices, Free Pickup & Drop Off, Free Inspection. Call Us For Free Pickup 054 350 1008
Why Choose Quick Fit Auto Center For Car Ac Service in Dubai?
Friendly Environment
Qualified Car AC Service Specialists
Dealer Alternative At Affordable Cost
Largest Auto Repair Workshop In Dubai
Professional & Experienced Staff
Customer Satisfaction is Guaranteed
Free Pickup & Inspection
Complete Range Of Car AC Repair And Service
Transparent Estimates
Quick & Reliable Service
Pay If The Job Requested Is Done
Let your AC bombard chill air again with complete Car AC Repair Service in Dubai
At Quick Fit Auto Center, we offer Complete Car AC Repair Service in Dubai, with a guarantee to restore the genuine performance as you start enjoying the drive again in chilled AC. On your visit At Quick Fit Auto Center, our trained and experienced mechanics do a comprehensive inspection to diagnose the faults associated with the air conditioning system like leaks, faulty compressor, etc. We then present you the report, take your approval, and repair or replace the parts to ensure that your Car AC is working in top condition and you enjoy your driving experience in all weather conditions. Therefore, if you notice that the AC in your Car is not working efficiently or you haven't had it serviced for a while now, this is the time! Book your Car air conditioner service NOW!
A Glimpse Of Our Car AC Repair And Service Center In Dubai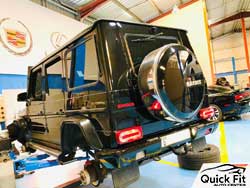 Quick Fit Auto Center Car AC Repair & Service Includes:
Car AC Visual Inspection Of All Components
Car AC Compressor Check & Repair
Car AC System Flushing
Car AC, Gas Top Ups, Dryer, Filters, Service Valve, AC System Pipes & More
Replacement of Car AC Filter
Car AC Function and Performance Test
Car AC Leak test & Leak Fix
Car AC Gas Refill
If needed, Disinfection of AC System (Evaporator)
Dashboard Removing & Fixing
Key benefits:
Efficient Cool Air In Summer.
AC Filter which keeps the air in your car clean.
Provide a pleasant and odor-free environment at all times.
Your Car's AC May Have The Following Issues:
AC Gas Leak
AC High & Low-Pressure Hose Leak
Service Valves Leak
Evaporator Leak
Faulty Compressor
Condensor is faulty
AC Button Not Working
Climate Control AC Not Working
Smell While Turning On AC
Not Cooling On Idle
Not Cooling While Driving
Compressor Tripping Without Maintaining Temperature
Complete Car Repair & Maintenace Services
Free Inspection on Car Ac Services in Dubai
As the summer heat goes up, or you just stranded in a traffic jam without air conditioner, then at that time you actually come to know the importance of a chilled car AC. Summer is here, and you need to get your Car AC inspected before the hot air complete disturbs your long trips and journeys.
Car Ac Service and Restoration:
Even you have awareness of fixing their car ac problems/issues, you still need the best workshop and expertise care for a complete restoration. So, whenever you experience the breakdown of your car ac, then no worries at all, come to Quick Fit Auto Center for complete Car AC Service in Dubai before a minor problem turns onto a major issue.
We Follow Industry's Benchmarked Standards:
Quick Fit Auto Center Car AC Repair Services are distinctive and ultra-modern, backed by the highly experienced technicians and latest procedures to quickly fix the car ac issues. To keep up with new vehicles we have to adopt new and innovative techniques by use of benchmarked processes with best industry standards, we ensure success rate every time. You never need to stress up with the repairing as all the Car AC Services in Dubai are complete powered by Free Pickup and Complete Free Inspection!
Your Car is in Good Hands:
At Quick Fit Auto Center, your car is in good hands with our expert technicians.  We will inspect your car ac system to find if there is any leakage, problem in with the gas or any other issue affecting the performance of the AC. Our focus is to deliver top notch permanent solutions that keep the vehicle ac system on track over the years, so the owners can enjoy value added service always
At Quick Fit Auto Center car ac repair Dubai you will experience better environment and friendly treatment from our staff and technicians ready to help you quickly with all your Car Ac Problems
Our holistic car ac repair services will astound you because we:
Visually check all AC mechanisms

Runs a performance test

Recharge AC services

Performs a leak test using leak detector
Feel Free to Contact Us:
We put your AC back to normal condition We ensure to provide futuristic services to satisfy our customers with 100% end results.  You can directly contact us if you need our assistance by dialing 056 66 34 222. Our staff will pick up your ride from your location and will fix the issue immediately.