Leading Auto Body Shop 


in Dubai
A To Z Auto Body Shop Solutions. We Are Expert In Any Major & Minor Car Accident Repair. Complete Vehicle Restoration & Auto Body Shop Services. Luxury And Classic Cars Restoration, Car Color Change, Car Denting & Painting, Interior Leather Repair & Rebuild Exterior Accident Restoration. Modification, Face Lifting, And Body Kits. We Do Everything an Auto Body Shop Can.
Auto Body Repair & Service in Dubai For American, German, Japanese, and all Luxury Cars. Discounted Price, Free Pickup & Drop Off, Free Inspection & Estimate. Call Us For free Pickup 054 480 3707
#1 Auto Body Services in Dubai
Are you looking for complete Auto Body Service in Dubai? You just landed at the right place. We offer Accident Repair, Chassis Repair, Auto Detailing and all other types of Auto Body Services in Dubai.
You can now book free inspection with Quick Fit Auto Center in Dubai and enjoy top-class Auto Body Services without any hassle.
Book a Free Car Inspection Now
Looking For The Best Auto Body Shop in Dubai?
Get – Set – Go
A Glimpse Of Our Independent Autobody Shop Portfolio In Dubai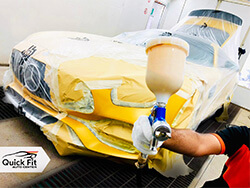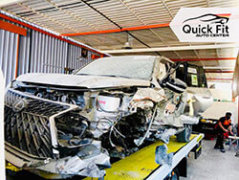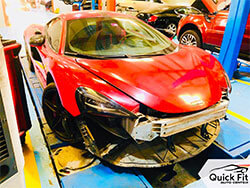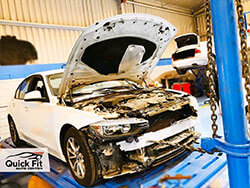 Car Accident Repair
Complete Car Accident Repair Solution, Either Its A Small Accident Or A Major One, We At Quick Fit Auto Center Provides Dealer Alternative Quality Auto Body Shop Service At A Reasonable Price. We Provide A Free Estimate With A Transparent Inspection Report. Our Service Advisor Shows You Exactly What Needs To Fix Your Car. Feel Free To Talk To Our Service Advisor Now For Free Pickup & Free Inspection.
Car Painting Service
We At Quick Fit Auto Center Provides The Best Auto Painting Services. You May have A Parking Scratch To Fix On Your Car, Or A Part Of Your Car Need To Be Painted, It Can Be A Door With A Small Dent Or An Accident, It Can Be A Bumper Repair And Paint Required On It, Or You May Need To Paint The Roof Of The Car Or A Bonnet. There Can Be Many Reasons That Your Car Needs To Be Painted. You May Also Want To Completely Change The Color Of The Car. We Do It All With Quality Auto Painting Services. Feel Free To Talk To Our Service Advisor Now For Free Pickup & Free Inspection.
Alloy Wheel / Rim Painting Service And Rim Refurbishment
You May Own A Stylish Exotic Car And You Want Its Rim To Be Custom Painted, Or You Own Any Car And Need A Better Look Of Your Car With Painted Rims. We Provide Top-Quality Alloy Wheels & Rims Painted Services. We Also Repair And Refurbish Alloy Wheels.
Brake Calipers Painting Service
Same Like Alloy Wheel Paint, We Also Provide Custom And Attractive Brakes Calipers Painting For Your Car. Choose A Color Of Your Choice And Our Qualified Painters Do The Rest Of The Job.

Detailing / Polishing / Head Lights Restoration
Your Car May Not Be So Cleaned From Inside, Or There Can Be Some Kind Of Smell, Or You May Want A New Look Of Your Car From Inside, We Provide Premium Quality Detailing Service For Your Car And It Fees Like New. You May Also Want To Get Your Car Polished And Want A Shiney Look Of Your Car. Your Headlights Can Become Yellow by The Time We Can Also Restore It. We Also Provide Engine Detailing. Complete Auto Detailing Services At Quick Fit Auto Center.
Wind Screen / Auto Glass Replacement
If Your Cars Front Or Back Windscreen Is Broken, Or Any Door Window Or A Mirror Is Broken. We Have Complete Wind Screen/ Auto Glass Repair & Replacement Solution At Our Auto Body Shop.

Dashboard Repairing / Sun Roof Liner Repair & Fixing
Sometimes Your Car's Dashboard Can Be Damaged Because of Sunshine And High Temperature In UAE, Or It May Be Broken Due To Any Reason. We Provide Complete Dashboard Repairing Service At Our Auto Body Shop In Dubai. Call Our Service Advisor For More Information. We Fix Roof Liners For Any Car, Our Experienced Technicians Knows How To Best Perform This Delicate Job. Talk To Our Auto Body Shop Advisor For More Information And Scheduling.

Upholstery / Leather And Fabric Seats Restoration.
Complete Vehicle Restoration Service, From Accident Repair, Vehicle Exterior Repair, And Restoration, We Also Have A Professional Team To Fix Your Cars Interior. Complete Leather & Fabric Seats Restoration Service. Book Now With Our Auto Service Advisor.

Car Chassis Repair And Alignment
Quick Fit Auto Center is one of the very few workshops in Dubai that can do Chassis repair and alignment. We have the latest equipment and experienced technicians for all types of chassis repair solutions.
Enjoy Top Quality Autobody Shop Services in Dubai