Get An Aston Martin Service Contract, Service Package At Bentley Dealer Alternative Service Center
Quick Fit Auto Center Is Specialised In Aston Martin & Maintenace Services. We Offer Dealer Alternative Aston Martin Service Contract, Aston Martin Service Package, And Bentley Extended Warranty
Our Bentley Service Contract/Package Includes:
5 Times ASTON MARTIN Engine oil & filter change
1-time ASTON MARTIN sparkplugs replacement
1-time ASTON MARTIN air filter replacement
1-time ASTON MARTIN A/C filter replacement
1-time ASTON MARTIN brake fluid replacement
1-time ASTON MARTIN power steering oil replacement
1-time ASTON MARTIN transmission oil replacement (Filter, pan & gasket not included)
Every time all ASTON MARTIN fluids top-up required
1-time ASTON MARTIN coolant replacement
1-time ASTON MARTIN A/C gas top-up
1-time ASTON MARTIN front brake pads replacement (inc. disc skimming)
1-time ASTON MARTIN rear brake pads replacement (inc. disc skimming)
Free ASTON MARTIN tire rotation
1-time Free Wheel Alignment
1-time ASTON MARTIN Free Wheel balancing
Free ASTON MARTIN multipoint inspection of the car
Free ASTON MARTIN washing & vacuum inside w/ every service
Free ASTON MARTIN pick up & Delivery
Engine ASTON MARTIN flushing not included
Why Choose Quick Fit Auto Center For Aston Martin Service?
A Neat and Clean Environment
Qualified ASTON MARTIN Specialists
ASTON MARTIN Body Services for all Models
Specialists Available for ASTON MARTIN Engine
Gearbox rebuild Technicians
Experts for ASTON MARTIN Regular Maintenance
Dealer Alternative Services At Low Cost
Professional & Experienced Staff
100% Guaranteed Customer Satisfaction
Free Pickup Service
Free Computerized Inspection
Transparent Estimates
Deal in all ASTON MARTIN Models
Years of Experience
Leading ASTON MARTIN Workshop in Dubai
Complete Range of ASTON MARTIN Services
Quick & Reliable Service
Pay If the Job Requested Is Done
A Glimpse Of Our Aston Martin And Exotic Cars Workshop In Dubai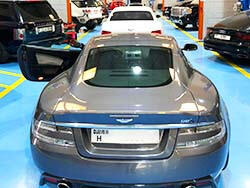 Fill out the form given below with your Aston Martin Make and Model to get details for the Service Contract for your car.
Get your ASTON MARTIN Service Contract in Dubai at Quick Fit Auto Center
Our ASTON MARTIN service contract is a promise to perform certain types of repairs and services. Do you need an ASTON MARTIN service contract in Dubai? Well, at Quick Fit Auto Center, we offer an ultimate service contract for all ASTON MARTIN Models in Dubai! We are a leading Dealer Alternative ASTON MARTIN Workshop offering affordable, reliable and competent ASTON MARTIN Solution. Once you get our ASTON MARTIN Service Package in Dubai, your car is maintained regularly while getting this service package will save your money too.