Volkswagen Major Service Dubai
Complete Range Of  Volkswagen Periodic Service. Volkswagen Minor Or Volkswagen Major Service, Volkswagen Kilometer Servicing (60k, 70k, 80k, 90k, 100k, 110k, 120k, 130k, 140k, 150k, and so on). We Also Provide Cost-Effective Volkswagen Service Contracts. Call Our Service Advisor For Booking And More Details.
Quick Fit's Volkswagen Major Service Dubai 
Quick Fit Auto Center is a one-stop solution offering a wide range of car repair services. Our Volkswagen Specialists will deliver top-class Volkswagen Major Service in Dubai Car Major Service in Dubai to help restore the car condition. We have expert technicians ready to reinstate your Vehicle's Performance through minor and major services in Dubai. 
Book a Free Car Health Check Now
A Glimpse Of Our Independent Volkswagen Workshop In Dubai.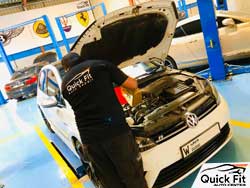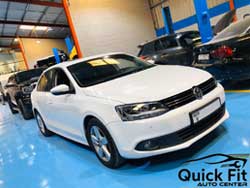 Do you want to avoid any major repair costs for you vehicle in the future? Then get Quick Fit's Auto Service Contract/ Package in Dubai & Abu Dhabi. For your Vehicle. Save cost and avoid the headache, Be Safe On The Road.
5 Times Engine oil & filter change
1-time sparkplugs replacement
1-time air filter replacement
1 time A/C filter replacement
1-time brake fluid replacement
1-time power steering oil replacement
1-time transmission oil replacement (Filter, pan & gasket not included)
Every time all fluids top-up required
1-time coolant replacement
1 time A/C gas top-up
1-time front brake pads replacement (inc. disc skimming)
1-time rear brake pads replacement (inc. disc skimming)
Free tire rotation
1 time Free Wheel Alignment
1 time Free Wheel balancing
Free multipoint inspection of the car
Free washing & vacuum inside w/ every service
Free pick up & Delivery
Engine flushing not included
Scheduled / Interval Service
(Click To Select A Service)
5K/10K/15K/20K/25K/35K Service
Replace Engine Oil
Replace Oil Filter
Service Air Filter
Service AC Filter
Replace Drain Plug/Gasket (If Needed)
Rotate Tires
Check and Adjust Tire Pressure
Perform Battery Medtronic's Test
Free Comprehensive Inspection
Free Car Wash & Vacuum